HS-Vario CAT, modular filterhousing
Modular filterhousing made from aluminum profiles and galvanized steel, easy and flexible to configurate according to your requirements.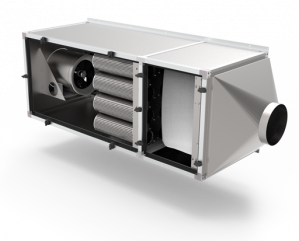 The HS-Vario CAT programme is the solution for your tasks in air filtration. The modular design allows to meet the requirement of most different fields of applications. Ranging from simple one-filter-stage supply or exhaust air filtration with bag filters to multi-stage filter solutions including regulateable fans. You can choose individually about the air-flow that should be handled, filter stages, auxillary equipment or installation position the required HS-Vario CAT should have. All integrated filtermounting frames are fitting for filters from HS-Luftfilterbau as well as standard filters of various other manufacturers. The extruded profile offers a circulating 30 mm frame and allows direct connection to the ducting or the mounting of connecting pieces either with flanges or other tube connectors.