HS-AirSynErgy: Energy Saving Filter
Energy saving filter - offers longer service intervals with lower pressure drop. Saves up to 30% of your energy costs.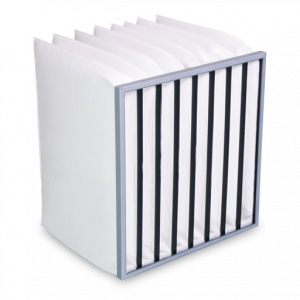 The product family HS-AirSynErgy is a bagfilter based on synthetics that reflects the highest technology standard is in regards to mechanical effiicency combined with long service lifetime and therefore a better energy saving potential. HS-AirSynErgy's performance is superior over usual glas- and common synthetic bag filters.
Paralel, tapered separarors in the bags of this high quality Filters ensure a stable air guiding form that allows an even airflow within the filter. Therefore all bags are evenly saturated with dust and particles. HS-AirSynErgy is different from other bag filters. The filtermedia offers a special inner wave structure that thus offers double active filtersurface by only consuming the space of a conventional filter. Combined with the air guiding profiles in at the air entry HS-AirSynErgy achieves up to 35% less pressure dop in comparison to common bag filters. This saves the user up to 1100 kW/h operational energy (equals approx. 620g CO2/p.a.).
The media structure with the enlarged inner surface offers an expicit higher dust loading capacity of up to +80%. This allows a much higher service lifetime without taking any drawback with the energy consumption compared with usual bag filters. HS-AirSynErgy is not requireing any electrostatics for the norm approved operation. A steady rise of the efficiency is ensured over the complete service lifetime. The filter fulfills the EN779:2012 requirements at any time.
Easy to notice: The cross section illustrates that the waved structure offers a much larger filtration surface in the same dimensions as usual flat media
As can be seen here, the elongated version of the waved media is twice as large as the common non-waved version. This lowers the pressure drop for filters and gives the user the maximum dust holding capacity.
The filtermedia of the HS-AirSynErgy series consists only of fully synthetic materials. The fibres are flexible and break-proved so a displeasing fibreshedding as seen with glassfibre bag filters while unpacking and handling is absolutely impossible.
All standard sizes are fitted with air aerodynamically shaped entry guides to optimize the energy efficiency.