HS-Filtermedia for coarse dusts
Filtermedia for coarse dust filtration. Supplied as Rolls and Pad's.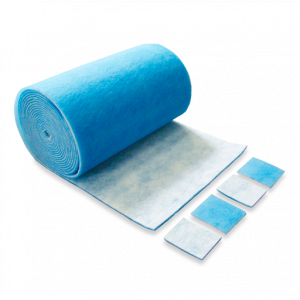 Washable filter pads are used in air conditioning and air ventilation equipment, when regeneration of the mats after cleaning is required. HS-synthetic fibre filter pads consist of randomly arranged curled synthetic fibres in a multi-layered structure with a graduated density towards the clean air side of the media. Resin and/or thermal bonding provides for a high performance nonwoven fleece. Its engineered structural design has proven to guarantee longer life and high dust holding capacity with low differential pressure-loss in the most demanding applications. After dust saturation filter mats can be easily cleaned either by blowing or washing and be reused.

Standard roll dimensions are 20 x 2 m, pads of all sizes can be cut on order.