HS-Activated Carbons
Activated carbon for gas- and odor filtration. Availiable as bag- or bulk goods.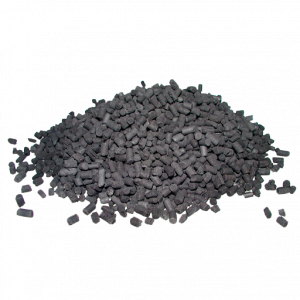 HS-Luftfilterbau supplies Activated Carbone in shaped and pulverised format. The granule size of shape and corn coal ranges between 0.6 and 6.3 mm, according to it's application, pulverised activated charcoal has a granule size of <0,075mm. This activated charcoal is manufactured from various raw materials, compost, coconutshells or sugar. This is achieved either by burning, or special treatment procedures to achieve a substantial enlargement in the "outer" and "inner" surface.
Through this process the finest porous surfaces and the finest capillary systems are created, which increases the absorbent surfaces up to 1700 m²/g. This in turn results in excellent filter efficiency and dust storage capacity and enables a long life span and high capacity of the active coal filters. Basic rules with the use of active carbon:
with increasing virtual contact with the active carbon or larger amounts of coal being used, the efficiency of the coal used is increased.
For the absorption of special pollutants impregnated active coal is used.
The air temperature of the flowing air shall not exceed 50ºC as from this temperature onwards some of the pollutants will be released by the coal. Any materials to be filtered have to absorbable. (Refer to table).
Active coal is very sensitive towards dust, and therefore it is recommended to use high quality and efficient dust filters as a primary filters for non-gaseous pollutions.
The basic rule: any gas molecules, which have more than three non-hydrogen atoms, are easy to absorb.
Please contact us for more, specific informations about the materials you need to adsorb.
Table about the effectiveness of the activated charcoal with the following materials (selection)
The effectiveness is indicated by the shown numbers:
4 = very good adsorption, 3 = good adsorption, 2 = small adsorption, 1 = very small adsorption

acetone

3

fatty acids

4

carbon dioxide

-

acetaldehyde

4

chlorine

1

chemical solvent

4

acrolein

1

chloroform

4

menthol

4

alcohol

4

diesel oil fog

3

methane

1

anaesthetics

3

acetic acid

4

methanol

3

ether

3

disinfectant

4

merkaptane

2

ethereal oils

4

formaldehyde

2

phenol

4

ethane

1

fruit smell

4

phosgene

3

ethylen

1

household smells

4

propan

2

ethyl acetate

4

iodine

4

sweat smells

4

amines

2

cerosine

4

tetrachlorcarbons

4

ammonia

1

body smells

4

turpentine

4

gasoline

4

cosmetics

4

tobacco smells

4

benzene

4

hospital smells

4

toluol

4

butane

2

cresol

4
please req. for more