HS-V-Pak SFV and HS-V-Pak RFV
V-Form compact EPA and HEPA Filters used with mobile applications, glove boxes and clean benches.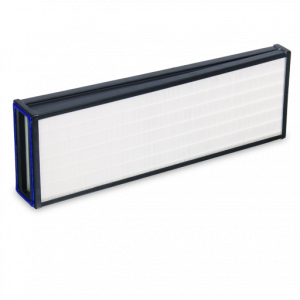 These compact HEPA filters are used as mainfilters in stationary applications such as cleanroom, pharmaceutical, medical or nuclear (i.e. in gloveboxes, cleanbenches etc.). With mobile applications HS-V-Pak SFV are used in machinery and vehicles that require controlled air quality (i.e.
Waste disposal, exhaust into cleanrooms). HS-V-Pak filters are in use where less installation space or flexible arrangements are required. HS-V-Pak filters allow maximum usage available space in channel sections. HS-V-Pak SFV filters consist from fully combustible raw materials so the filter can be completely incinerated after use. This allows easy disposal especially when toxic or biohazardous filtrates are collected by the filter.
Standardsize: 86,5x202x600 mm.
Standard: Filter class H13 - H14 (HS-V-Pak SFV) or E11 (HS-V-RFV) according to EN 1822, plastic frame made from ABS
Options: foamed gasket at air entry, burst protection
HS-V-Pak SFV or HS-V-Pak RFV are temperature resistant up to appx. 65°C and resistant for up to 100% rel. humidity.

Dataheet