HS-Mobile Filter Unit
Mobile safety filter system for particle and gas filtration (i.e. toxic dusts, war gas, radionuclide etc.) in safety relevant areas.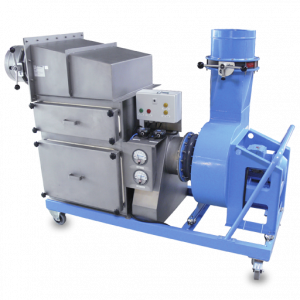 Portable, ready to use, fitted with airtight sealing inlet and outlet covers, compact Fan and extraction Unit.
Fully equipped with fan, heater unit and high capacity filters able to absorb air-born gas and dust pollution. HS-Mobile Filters are ready for any task or application from radioactive, toxic or other pollution. It is ideally suited for use in places where no, or insufficient filter capacity is provided and can be used to feed or extract air in any location as long as there is a power source available.
These Mobile Units are used in a universal range of environments:
For repair, service or re-furbishing applications used to either supply or extract polluted air from rooms or containers.
For environmentally safe ventilating when flushing of large petrol storage tanks at petrol stations or removal of poisoned or toxic gasses or unpleasant odours,
Experimental Laboratories,
Chemical or similar companies,
Nuclear Installations
Anywhere, where temporary un-controlled pollution is taking place.
HS-Mobile Filter Units should be readily available for army, emergency Rescue, Nuclear Installations and any other provider of help facilities. It could also be useful as a preventative measure with building or servicing crews.
Application Example 1:
Tank flushing before entrance of personnel or during work in the tank
Application Example 2:
Repair, dismantling of components under provisional condition (i.e. Plasticstent)
3. Anwendungsbeispiel:
Air flushing of reactor chambers before lids are removed.
HS-Mobile filters are available in 4 sizes and various configurations:
Mobile Filters Type F1 und F2
Where gases, dust or aerosols have to be filtered, the most suitable filters to use are the highly effective Active Coal Cells combined with a pre dust filter module. Electric heating elements are used to reduce the humidity in order to increase the efficiency of the active coal filters.
Mobile Filters Type F3 und F4
Where only dust or aerosols have to be filtered, active coal filters and electric heating elements are not required. Due to the higher airflow capacity of dust filters compared to the active coal filters the airflow speed can increase to twice the speed of the above configuration, at the same basic conditions as above. This will reduce the time required substantially.
Housing Configurations : Primary Filter, HEPA and activated carbon filters are individually equipped with a service panel safely sealed by a special profile gasket and tightly secured by 4 star handle screws. Any openings are equipped with an aluminium twin groove service cover. This ensures a contamination-free replacement of filter cells by using service bags during the filter replacement.
The reasonably sized service covers are at the same time used to secure the service bags. The stainless steel two-lever pressure system consists of a closed robust profile steel frame which works via accentors and leaf springs by applying pressure against the filter interests, and in this way becomes self-adjusting for safe operation. This way any give in the seal or compressed filter cells is automatically adjusted. The design of this system only allows the service panel to be closed, and an exact fit is achieved. This design has been used to prevent operating mistakes. Welded safety panels prevent, even with severe shocks and vibrations, the service panels from coming lose. In addition each dust and active coal filter is fitted with a seal leakage monitoring system of the filter inserts, according to DIN1946- part 4. It is also possible
to achieve leakage monitoring during operation of the unit. Acrylic Pressure Gauges always display exact pressure difference of the filter inserts. The measuring lines are precision fitted 1.4301 stainless steel pipes.
| | | | | |
| --- | --- | --- | --- | --- |
| | Typ F1 | Typ F2 | Typ F3 | Typ F4 |
| Air Flow [m³/h] | 1500 | 3000 | 3000 | 6000 |
| No. of HEPA Filters class H14 - EN 1822 | 1 | 2 | 1 | 2 |
| intital / final pressure drop [Pa] for HEPA Stage | 200 - 750 | 200 - 750 | 200 - 750 | 200 - 750 |
| No. of activated carbon filter cells | 1 | 2 | | |
| ntital / final pressure drop[Pa] for carbon filter stage | 200 - 550 | 200 - 550 | | |
| fan motor rating [kW] | 4 | 5,6 | | |
| pre-heater element rating [kW] | 3 | 6 | | |